How to choose an online bookmaker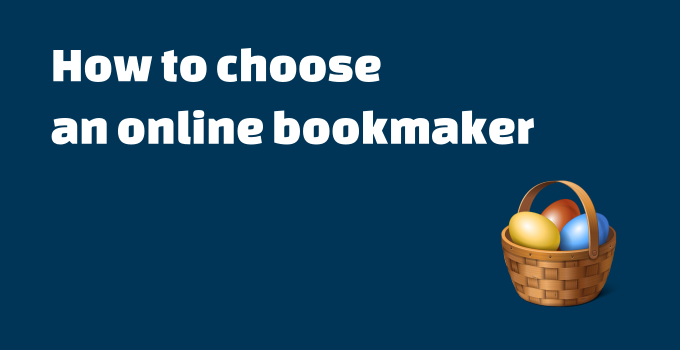 As a new punter (person who gambles), there are hundreds of websites where you can gamble on sports, casino games and other gambling games. Therefore the first step to choosing an online website is to ask yourself a few questions:
1) What sports (or casino games) do I want to gamble on (or play)?
2) How often do I want to gamble?
3) Do I want to do live sports betting?
4) Do I want to watch the sports event I want to gamble on?
5) Am I gambling for "fun" and "excitement" or to make a lot of money?
6) How important to me is the layout and design of the website?

1. What sports do I want to gamble on?
There are many sports you can gamble on – the most popular sports in online betting are Horse Racing and Football (Soccer) however other sports that hold events on weekends or public holidays such as Christmas are also popular – Golf, Tennis semi-finals and finals, F1 races and Rugby internationals, American Football, Basketball, Ice Hockey and baseball.
Bookmakers are the same as punters! They also like to concentrate their gambling on various sports. Some online gambling sites are more interested in Horse Racing while others are more interested in Football while others prefer American sports such as American Football, Basketball, Ice Hockey or of course Baseball.
So the advice here, is to check reviews on line. What do different punters think are the better (or best) bookmakers for the sport you would like to gamble on. If you like a specific sport then choose bookmakers that offer good odds and wide markets for that sport and its major events.
For example, William Hill has some very good markets for horse racing, Tennis and Football. Ladbrokes covers a huge range of sports and events.
2. How often do I want to gamble?
How often you want to gamble is an important question. Bookmakers keep records of punters' bets – loses and wins – and have people who monitor and check betting activity by different winners and losers. So if you have a gambling strategy or you hit a winning streak then the bookmaker may refuse to take your bet for a particular event.
WARNING – A bet is taken as an "act of faith". Bookmakers do not HAVE to take your bet – they have the right to refuse any bet by any punter if they feel it is too high or suspicious! So if you intend to bet hourly or daily then it is a good idea to have at least 4 or 5 accounts (or more) at various bookmakers.
This makes it more difficult for them to track your gambling patterns and strategies as your gambling habits will appear to be more erratic and spread further apart – including your wins and loses. However, if you prefer to gamble only on Saturday then this is not so important and you will only need one or two accounts.
3. Do I want to do "Live" betting?
If you want to do "Live" betting then you will need to find a bookmaker that offers this service. You will also need to consider where you will be watching the event. Some bookmakers such as William Hill offer live streaming of events online while others do not – but they might still offer a "Live" betting service.
If you are in bar or are watching the sporting event on an electronic device such as a smart-phone or tablet then you will want a bookmaker that has a quality APP. If you are at home and have access to the sporting event via your television networks then you might just want to use your PC to gamble.
Another thing to think about is the "time delay" it takes for the pictures to get to your device or television from around the world and the time it will take you to place your bet. For example, if you see a "foul" and you think a team will score from the resulting "restart", you want to be able to place your bet within 10 seconds of the foul otherwise you may miss the opportunity to gamble before the "restart".
Bookmakers often have an in built "time delay" to stop "insider" (cheating) gambling so you need to check the "time delay" at the website.
4. Do I want to watch the event I gambled on?
If you do, then you can choose betting websites that offer online streaming services. Of course they will not stream all events but selected ones. Make sure that if you want to watch the event you want to gamble on you will need to make sure that the event is going to broadcast by the gambling company or check that you can get access to the event through television or other streaming websites.
5. Do I want to gamble for fun or to make a lot of money?
If you are gambling for fun and you want to gamble now and again or only on your favorite team or player then one of the top popular websites will be enough – William Hill, Betway. However if you are more serious you will want to get higher odds and maybe even act as a bookmaker yourself and so you will want to check the various "Betting Exchanges" – Betfair is probably the oldest, the biggest and the most popular.
6. How important is the design of the website to you?
The more complicated the website is – perhaps as a new punter you might find it annoying or difficult to use so you want to choose websites that are more user friendly. William Hill are very user friendly while others can take time to find the bet you are looking for. Visit the sites and see how easy or difficult you find them to use before opening an account.
Next guide for beginners : How to open an online betting account