Betting tips for England Premier League 2017/18 ante-post markets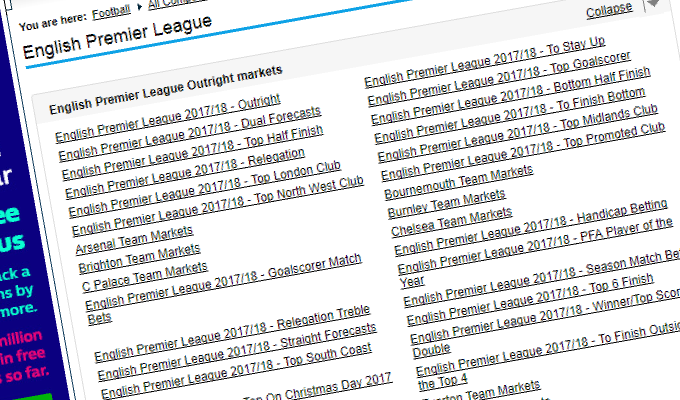 With new Premier League season set to start in August. Betplanet.net gives you information about the large number of Ante-post (pre-season) markets available as well as some recommended value bets to consider.
Good luck!
The English Premier League Ante-post Betting Markets
To win "Outright" with Each Way 1/3 place 1,2
No value bet available for win outright. Tottenham at 9/1 Each Way represents an OK bet because they have finished 2nd in the last two seasons so at 1/3 odds represents a 1 in 3 season top 2 finish.
Straight Forecasts – Which team will finish 1st and 2nd?
Value can be found if you believe the Premier League will only be won by one of two teams
FOR EXAMPLE ONLY! (Choose who YOU think might be the top 2!) – IF Bet A is Man City 1st, Chelsea 2nd @ 8/1 and Bet B is Chelsea 1st / Man City 2nd @ 9/1
Stake 3 points on Bet A and 2 points on Bet B
Dual Cast
This is a Straight Forecast and a reverse Forecast which means Team A to finish 1st or 2nd AND Team B to finish 1st or Second. e.g Man City / Chelsea @ 4/1 (for either to happen).
Straight Tricast – Which teams will finish 1st, 2nd and 3rd?
Great Value but less likely of course! We like Man United 1st, Man City 2nd, Chelsea 3rd @ 22/1
Top Goal Scorer – Each Way ¼ place 1,2,3,4
The most obvious bet is Lukaku @ 4/1 – If he doesn't get injured you are guaranteed to at least win your stake back.
Winner / Top Goal Scorer double
If you think Team A will win the league then you might believe that the Top Goal Scorer will come from the same team!
Aguero / Man City @ 11/1
Lukako / Man Utd @ 14/1
Morata / Chelsea @ 22/1
Kane / Tottenham @ 25/1
Or not…
Lukaku / Man City @ 10/1
Kane / Chelsea @ 14 /1
Eden Hazard / Man United @ 100/1
Top 4 Finish – Which teams will finish in the top 4?
If you like "odds on" then Chelsea @ 3/10 is the best bet here.
Unless you are an Everton fan (@ 9/1 to finish in the Top 4) there is nothing of value to bet.
Top 6 Finish
If you believe Everton can finish in the Top 4 then you have to believe they will finish in the Top 6 @ 2/1.
Fun bet – 3 points on Newcastle @33/1
Finish Outside Top 4
Man United to repeat last season's finish outside top 4 is 9/4 – no chance, don't waste your money. However Arsenal @ 4/5 is possible!
Top half finish (Top 10)
Stoke @ 2/1 and (or) West Brom @ 2/1
Bottom half finish (Outside top 10)
No value – Southampton @ 13/10 is the only one we might consider but wouldn't bet.
To Stay up (not get relegated / avoid relegation)
A pointless market because only one team (Huddersfield @ 13/10) is not "odds-on" and Huddersfield could stay up – Burnley did last season!
Relegation
We really don't want it to happen at Betplanet.net but Southampton to be relegated @ 22/1 is serious value and worth a 5 point bet considering a) there are only 20 teams in the league, 22/1 suggests there are 22 teams!! b) Are they going to stay in the Premier League for another 22 years? 22/1 suggests they only get relegated once every 22 years c) Are they really that much better than the other 10 teams that might get relegated?
To finish Bottom
Recommend "No bet"
Relegation Treble
Could be anyone, ranges from 11/1 to 175/1 for choosing the three teams.
Total Season Team Points
Find your own team and bet they get Over "X" points or Under "X" points!
Handicap Betting – ¼ the odds at 1,2,3,4 place, all are @ 15/1
Manchester City start at "Scratch" or (-) then Chelsea 3+, Man Utd +3, Tottenham +6, Liverpool +6, Arsenal +8, Everton +18, Southampton +28 etc.
Top Club in the area
Top London Club
Chelsea 4/6, Tottenham 23/10, Arsenal 7/2, West Ham 200/1,
Crystal Palace 325 /1, Watford 500/1
Top Midlands Club
Leicester Evs, Stoke 2/1, West Brom 11/4
Top Northwest Club
Man City 4/5, Man Utd 13/8, Liverpool, 11/2, Everton 33/1, Burnley 500/1
Top South Coast Team
Southampton 4/11, Bournemouth 3/1, Brighton 7/1
Placing the four teams of Chelsea, Leicester, Man City and Bournemouth with the odds given in a "Yankee" (11 bets of 6 doubles, 4 trebles and 1 4-fold) at 11 points returns…
1 team wins returns 0 points
2 teams win returns minimum 3 points
3 teams win returns minimum 15 points
4 teams win returns 101 points
Top at the End of August
Basically – Who will be top after the first 3 games of the new season?
Here are last season's top 6 teams' opening games in August this season:
Man City @ 16 / 5 play Brighton (A), Everton (H) and Bournemouth (A)
Man Utd @ 16 / 5 play West Ham (H), Swansea (A) and Leicester (H) – [Recommended Bet]
Tottenham @ 5 / 1 play Newcastle (A), Chelsea (H) and Burnley (H)
Liverpool @ 5 / 1 play Watford (A), Crystal Palace (H) and Arsenal (H)
Chelsea @ 6 / 1 play Burnley (H), Tottenham (A) and Everton (H)
Arsenal @ 14 /1 play Leicester (H), Stoke (A) and Liverpool (A)
Bet 5 points on Arsenal and then 2 points on Leicester, Stoke or Liverpool in the match betting.
Top on Christmas Day
Basically a "Who will be leading the league at Christmas?" bet.
Manchester City @ 9/ 5 Chelsea @ 16 / 5 Man Utd @ 4 / 1 Tottenham @ 5 /1 Liverpool @ 15 / 2 Arsenal @ 9 / 1
Top 4 on Christmas Day
Everton @ 4/1 as an outside bet. If you like "odds on bets" than Chelsea at 3/10 is not bad.
Bottom on Christmas Day
No bet – unless you are convinced a particular team is this season's Sunderland of last season.
Individual Performance Betting
Top Goal Scorer – Each Way ¼ place 1,2,3,4
The most obvious bet is Lukaku at 4/1 – If he doesn't get injured you are guaranteed to at least win your stake back.
First Player to score a Hat-trick
Ranges from Kane @ 9 / 2 to Rashford @ 60 / 1
Player with the most assists
Ranges from De Bruyne @ 4 / 1 to Richie @ 100 / 1
PFA Young Player of the year
Ranges from Deli Ali @ 7/2 to Target @ 100/1
Raheem Stirling @ 14/1 is worth a 3 point bet.
PFA Player of the Year
Ranges from Kane @ 7 / 1 to McCLean @ 150 / 1
LMA Manager of the year
Ranges from Pep Guardiola @ 3 / 1 to Claude Puel @ 50 / 1
Where can I find the good value odds for EPL ante-post betting?
If you are looking for the England premier league betting odds which have good value, we recommended that you should visit the William Hill website, because they offer various ante-post betting markets much more than other bookies.
Note: Most of the ante-post betting markets will close before 2017-18 season first match Arsenal vs. Leicester City kick-off at 7:45 pm 11th August.