How to open a bookmaker PINNACLE account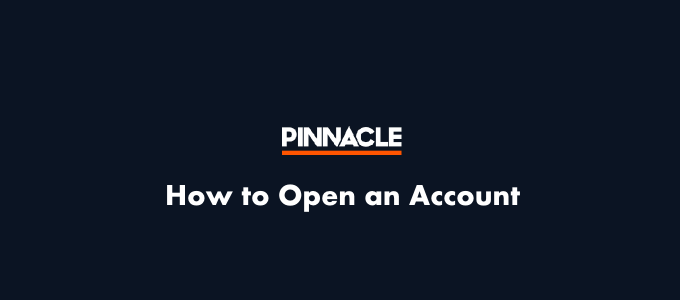 If you have a desire to get much more winnings from sports betting, bookmaker Pinnacle(formerly Pinnaclesports) would be suitable for you. Because they offer the highest value odds online, accept large bets, and welcome winners(never limit your account). Opening account is free and easy. You can get started in betting on Pinnacle within few minutes!
Make sure available to create a Pinnacle account in your country before get started.
Current restricted countries
American Samoa, Denmark, France, French Polynesia, French Guiana, Germany, Guadeloupe, Guam, Ireland republic, Martinique, Netherlands, New Caledonia, North Korea, Phillipines, Poland, Puerto Rico, Singapore, Spain, Syria, Turkey, US Virgin Islands, United States and UK
How to open a Pinnacle account
If you are not living in a country above, let's get started to open a Pinnacle account while following the guide below.
Step.1 Visit Pinnacle
Firstly , go on the Pinnacle website. Visit Pinnacle website
Step2. Click the "Open Account" Button
Click the "Open Account" button, and then open the registration form.

Step.3 Fil in the registration form
Pinnacle registration form is very simple. Firstly, choose a preferance language to display website. Secondly, fill in this form with your personal details.(note: make sure type your accurate information)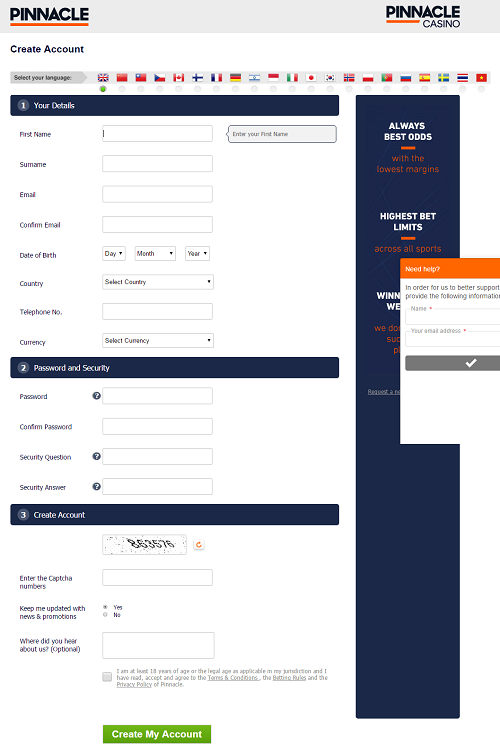 Required information
First Name
Sur Name
Email Address
Date Of Birth
Country
Telephone Number(Available cell number)
Currency
Password
Security question(create your own question. ex. What is the favorite team?)
Security answer
Step.4 Click the "Create My Account" button
Finally, click the "Create My Account" button after filled in all requirements, captcha numbers and checked the T&C agreement.Then, you will receive a welcome message and login username(ID) to your email address.
Pinnacle accepts various deposit methods, such as major credit and debit cards, bank transfer and e-wallets. So, choose your preferred method after login.
If you want to bet on higher odds than your current betting account on another bookmaker, and want to get more earnings, it will be a great option to have the Pinnacle account.