How to Open an Online Betting Account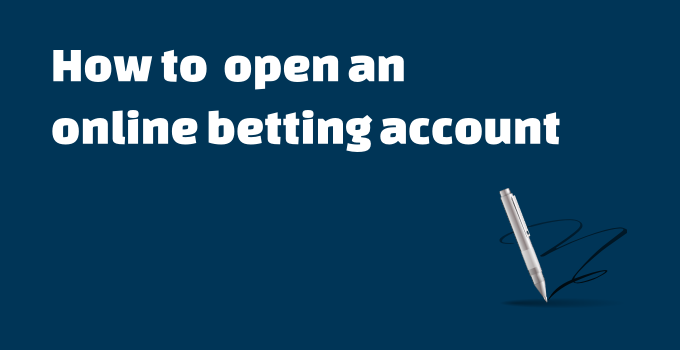 Opening a betting account is as easy as it possibly can be these days. After choosing the bookmaker you want to sign up with you simply register and then you can make a deposit to get the bonuses or promotions and of course – to start gambling.
We explain how to open an account step by step with screen shots of a bookmaker and mention some notes you need to know before getting started in open an account.
Note: There are age restrictions for gambling in different countries, and most betting websites will follow the rules of that country. So if you are living in a country where betting is not allowed to anyone under 21 years old, and you are 20 years old then you may not be able to open an account – even if the country of the website you want to gamble with allows over 18s to gamble in that country. For example, a 20 year old in the U.S. cannot open an account in the U.K. even though you can gamble at 18 years old in the U.K.
How to open a new betting account
Then, look at this guide for opening account. Website appearance depends on bookmakers. However, there are no differences in the procedure of creating an account.
Step.1 Find a registration page on the bookmaker website
At first, access to the bookmaker's website which you want to become a member, and then look for a link or button to enter the sign-up page.
You can find it easily with a copy of "Join Now" "Bet Now" "Register" or "create a new account".
Step.2 Enter your information to the form
Click the link, then into the registration page or pop up a new window with a form of opening account.
Fill in the form with your details such as first name, last name, date of birth, address, email address, cell phone number and so on.
These are general requirements of opening account on online bookmaker.
Gender
Title
First Name
Last Name
Date of Birth
Address
Country
Postcode
Email Address
Currency
username
password
Choosing Security question
Create Security question answer
Nearly all of the online gambling websites will ask you a security question when you register so make sure that you can answer that question or never forget it otherwise accessing your account in the future will be extremely difficult, frustrating and tiresome and you may not be able to cash out your winnings.
Step.3 Click to the last button
Finally, check the terms and conditions agreement, and click the finishing button. Then you will receive a welcome email to the registered email address. Check it on your email account soon(please note, sometimes it will be in a spam folder), because in some cases, bookmaker demands to verify your email address to complete the registration process.
Some bookmakers send a player to depositing page directly after opening an account, but if you haven't prepared any payment method yet, close that page and you can deposit whenever you want on your account.
After opening account
After opening account and deposit money, you can not only bet on your favorite sports but also be able to watch live streaming.
Some bookmakers such as William Hill, and Unibet offer live streaming service for various sports (e.g. football, tennis, basketball and so on) in their in-play betting platform.
In order to watch the sporting events that are streamed you will need to either have money in your account or have had money in the account at some point – this is called "a funded account". Some websites will only allow you to watch the streamed event if you have made a bet on that event so make sure you check this at the website.
Conclusion
You can probably register, make a deposit and then place a bet within 5 minutes if everything goes well but be prepared for the occasional problem as with any website or financial transaction that you do on-line.
Notes for opening account
1.It is recommended that you sign up with lots of time before the event you want to watch or bet on. Do not wait until ten minutes before the event to sign up, make a deposit and then make a bet. This will only lead to frustration.
2.Online betting is easy to get started, and maybe you can open an account within few minutes on online bookmaker. However, if you don't have deposit method yet, you need to spend time more.
3. Make sure you have plenty of time to register and make your deposit and then choose your bets. You may have to go to your email account to make confirmation clicks or change passwords or wait for your bank to authorize the transaction so please be aware that these steps all take time.