How To Bet On Golf – Golf Betting Details Explained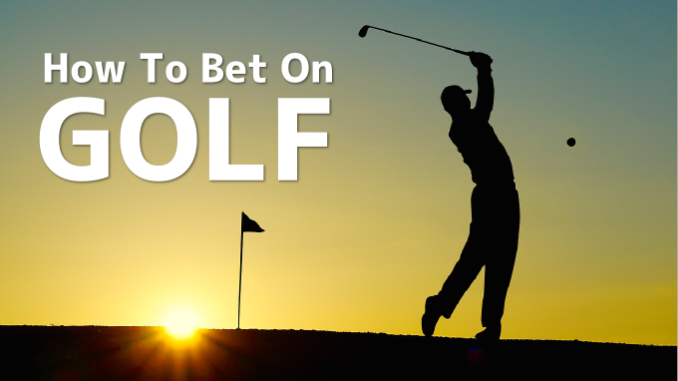 Golf betting is very exciting likewise other sports betting. Online bookmaker offers many type of odds for punters whole a season. So, we summarized meaning of typical golf betting odds offered by famous bookie. This page will help your understanding about golf betting on online-bookmakers, so If you want to bet on golf on online, read this article carefully.
Types of Golf Bets
The markets range from standard "To Win" and "Each way" bets through to "Specials". Here are some of the more common bets available in Golf on-line betting:
The European Order of Merit winner
The USPGA Money List winner
To be World number one
The Fed-Ex Cup winner
Ante-post Tournament winner
Ante-post Tournament winner Each Way
Tournament Winner (between each round)
To make / miss the cut
Head to Head (Bookmaker selected)
Head to Head (Tournament selected)
Three Ball
Group Betting
Live Betting
Specials
Win Outright / Each Way
In this market punters choose who they think will win the tournament. Like horse racing, there are Ante-post odds available up to a year before the major tournaments take place. In the case of the Ryder Cup – a competition played between a team of players from the USA and a team of players from Europe – the Ante-post betting is available up to two years before the competition.
The odds offered on players in golf are often very high compared to those offered in other sports. For example for next year's Masters Championship here are some example odds:
Jason Day 8/1
Rory Mclroy 8/1
Jordan Speith 8/1
Dustin Jonson 12/1
Bubba Watson 16/1
Adam Scott 20/1
Rickie Fowler 20/1
Danny Willet 25/1
Henrik Stenson 25/1
Hideki Matsuyama 25/1
Justin Rose 25/1
Patrick Reid 33/1
Phil Mickelson 33/1
Tiger Woods 33/1
Branden Grace 40/1
Because the odds are high and there are so many players, different bookmakers will offer different odds for the same players. It is possible that you might see a player listed at 40/1 with one online bookmaker but is listed at 66/1 with another. It is a good idea to check different bookmakers for their odds offered on the same players.
Place Only Bets
Some online bookmakers offer "Place Only" bets for a player to finish in the first five places. The difference between a Place-Only Bet and an Each-Way Bet is that a Place Only bet is one bet but remember an each way bet is TWO bets, one bet to win and one to be placed. The place bet odds are usually 1/5 of the To Win odds offered in the To Win Outright market.
Golf dead heat rules
A "Dead Heat" means that two horses or players both finish in the same place. For example, if two players both finish -9 under par and they both have the best scores (the field has -8 or less) then they would both finish in first place. Golf has a "Tie-breaker" or "a play-off" in this situation so "Dead Heat Rules" are not important. But after first place has been decided then you may find that there are four players all with the same score in third place e.g. 3 players all finish on -8 under par. This is when "Dead Heat Rules" are used by the bookmakers.
Dead heat rules mean that your initial Each Way stake will be divided by the number of players that are in the dead heat places and then paid out at the odds given when you placed your bet. In a Dead Heat scenario the original stake on your chosen player is divided by the number of golfers that finish in the dead heat (same place – joint 2nd, 3rd, 4th, 5th). So a $100 bet on a player that finished 3rd with two other players (all three finish on -8 under par) will have their stake divided by 3:
$100 / 3 = $33.33
$33.33 is now the "new" stake that will be calculated with the original odds at each way or to finish in the top 5.
If you bet $100 on a player with odds offered at 50/1 each way (5 places pays 1/5) or 10/1 to finish in the top 5 the bet would look like this:
$100 / 3 (3 players tied for 3rd place) = $33.33
[The $66.67 of your original stake is lost – this is because of the "dead heat" rules.]
$33.33 x 10 = $333.33 win
Plus your original stake of $100 is returned so the total return is $433.33.
To make / miss the cut
Many online bookmakers offer the chance to bet on players they think will "make" the cut or "miss" the cut. The "Cut" is when a large number of players are removed or eliminated or "cut" from the event after the second round or second day. For example, at The USPGA Open the 156 golfers who start the tournament on Day 1 will be reduced to around 70 golfers at the end of day 2. The golfers with low 70 scores (plus ties), make the "cut" and will continue over the Saturday and Sunday and play the final two rounds. The golfers outside the Top 70 (plus ties) miss the "cut" and go home early.
Head to Heads
There are three head to head markets. One is "Ante-post" where the bookmakers will "pair" players together as if they are playing against each other. The player who finishes higher up the leader board or finishes with the lower score at the end of the tournament is the winner. Head to head bets can be found for single 18-hole rounds, or for full 72-hole (4-round) tournaments.
The second head to head is at the start of the tournament before the first round. In the first two rounds of a golf tournament the players are grouped into threes. The online bookmakers will often offer odds on the three players who will play their rounds together. This head to head betting is called "3- ball" betting. You choose which player in the group of three will have the best round.
The third head to head market is decided the day before the 3rd and 4th rounds when two players are matched to play with each other around the course. You choose who will have the best round on that day.
Player Group betting
The bookmakers will also make "groups" of players (usually five) and you can choose who will be the best player in each group. For example they may "group" the top five players in the world together, then players 6-10, then 11-15, then 16-20, etc. You choose which player in the group you think will have the best tournament from the players listed in that group. This also means that you can bet doubles, trebles and accumulators.
Live Betting
During the rounds the bookmakers will increase or decrease the odds offered on different players as they make or miss their shots on each hole. Live betting will generally be available in most of the markets.
Spread Betting
Spreads are often offered on the position a player may finish in a tournament and spreads are also offered on the number of stokes a player may finish with.
Special Bets
Special bets offered on individual players may include:
Who will be on top after each round?
Who will score the most eagles, birdies, bogeys, double bogeys?
Which Brit/American/European will finish the highest?
Who will win – A Brit, a European, an American or other?
Rory Mclroy to win how many Majors in 2017:
None
One
Two
Three
Four
How many players to score a hole in one?
Who will hit a double eagle?
The number of eagles under / over after the tournament has finished.
For the majors, ante post specials may include:
No playoff in All 4 majors 7/4
No Hole in One in All 4 Majors 10/1
Any Asian Player to win a Major 5/1
Hole in One in all 4 Majors 14/1
Debutant Major Winner to win all 4 majors 20/1
Mcllroy, Day, Spieth or D Johnson to win all 4 Majors 33/1
Mcllroy, Day or Spieth to win all 4 Majors 66/1
Mcllroy or Day to win all 4 Majors 200/1
A Playoff in all 4 majors 150/1
Free Golf Bets
Many online bookmakers will offer "Free Bets" on golf to try to get more punters interested in gambling on golf so it is a good idea to look for these as you use your online betting service. There are also offers and promotions that offer great golf betting bonuses so also look for these.